First, let me clear up your curiosity about whether or not can you spray paint shoes. Well, the official answer is a BIG YES, and with the proper tools and spraying techniques, anyone can spray their shoes.
Applying paint spray to your shoes is an excellent way to give them a completely new and desired look. Plus, it's also one of the best ways to show off your creativity and customize your shoes to make them stand out.
However, before you start painting, ensure you are using the appropriate spray paint, as there is no universal spray paint for all shoes. Follow this article if you know very little about spray painting and want to know everything, including the spray painting process.
Is Spray Painting Shoes Preferable?
Shoe painting is not new, and many people have been doing shoe painting for a long time. Some people have taken up shoe painting as a profession and are earning a decent amount of money.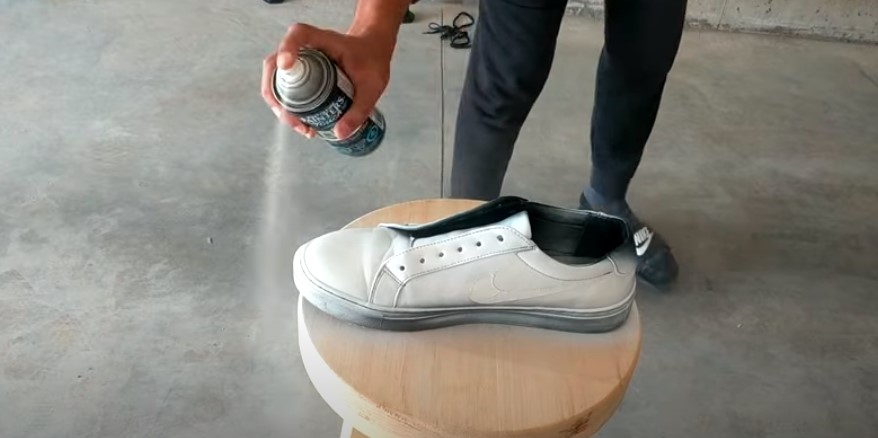 However, when it comes to spray painting your shoes, this might be your best bet. Spray painting your shoes is a great way to give them an attractive look and set them apart from the rest.
Just be mindful about using the right paint spray and, most importantly, the right techniques. Then you can give your new or even old shoes the best possible look by painting them.
Can You Spray Paint Shoes?
Undoubtedly, the answer is yes, you can spray paint your shoes. It's the best way to give your pair a tremendous look. On the other hand, applying spray paint can also change the overall appearance of your old or used pair.
In short, you can apply paint spray to your shoes, and it's worth it to do so. However, before you initiate the spray painting process, make sure that you are using the correct spray paint.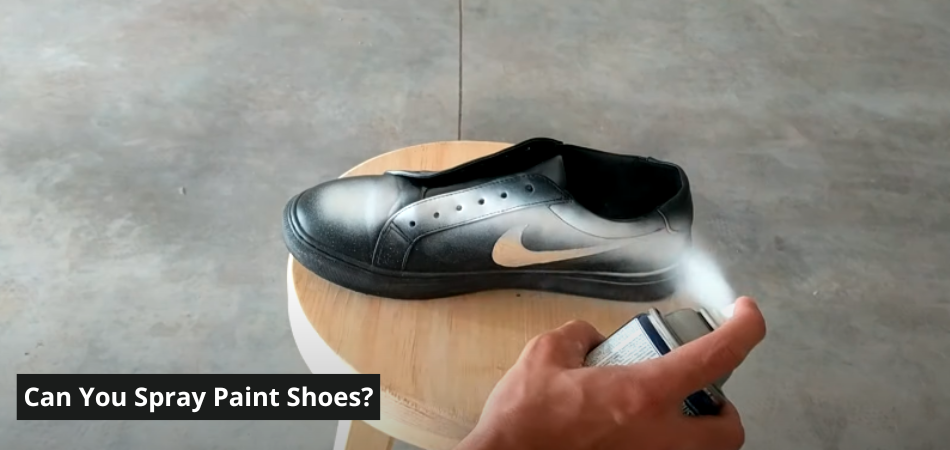 Since there is no universal shoe material available, not all shoes will digest the same treatment. Here I've illustrated some popular shoe materials with their required spray paint types, have a look:
Leather shoes require acrylic spray and leather paints
Canvas shoe material requires acrylic spray paint
Suede and cloth shoe materials need fabric spray paint
Spray paint specifically works best in leather shoes and indexes well with synthetic shoes as well. And alongside leather and canvas shoes, acrylic spray paint also works perfectly well in rubber, plastic, and vinyl shoes s as well.
Now that you know enough about what spray paint to use, I can proceed with the painting process. Check out the section below to learn what you'll need for spray painting and how to do it.
Equipment and Tools That You'll Need To Paint Shoes
Before you begin the painting process, you will need to organize some tools and equipment. Here's what you'll need:
Your shoes (old or new)
Spray paints (depending on the material of your shoes)
Acetone
Finisher or sealer
Craft knife
Newspaper or plastic bag
Painter's tape or masking tape
Protective gloves, masks, and goggles
How To Paint Shoes Using Spray
Once you've arranged everything you need, you can now proceed with the painting process. Select a spray to color your shoes that goes with everything and to achieve the desired results by spraying your shoes, follow the steps below:
Step 1: Prepare Your Shoes
If you have new shoes, apply acetone to remove all types of dirt, debris, or factory finish from the pair. You can do the same for an old pair of shoes too, as it helps to create a surface where the spray paint can adhere.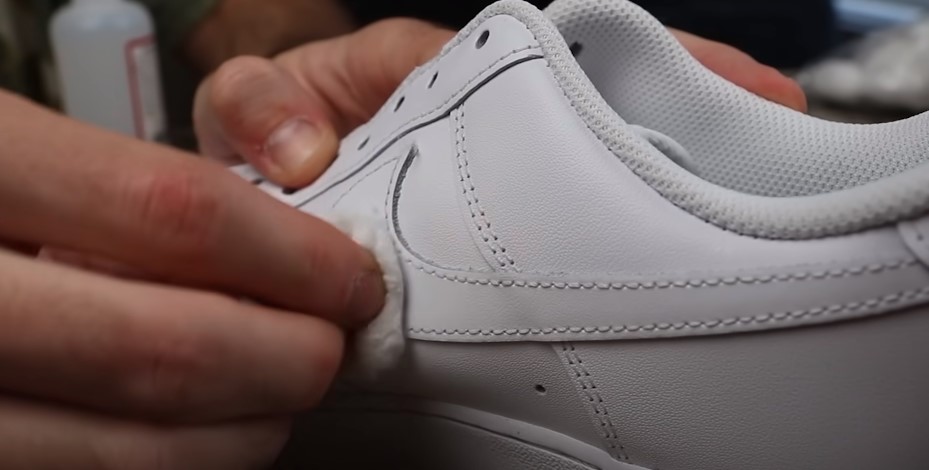 Step 2:  Make Sure The Workspace Is Ready
Once your shoes are ready, it's time to prepare your workspace. It's recommended to apply spray paint in a well-ventilated area. Also, put something you don't mind getting dirty, such as a newspaper or a plastic bag, under your shoes.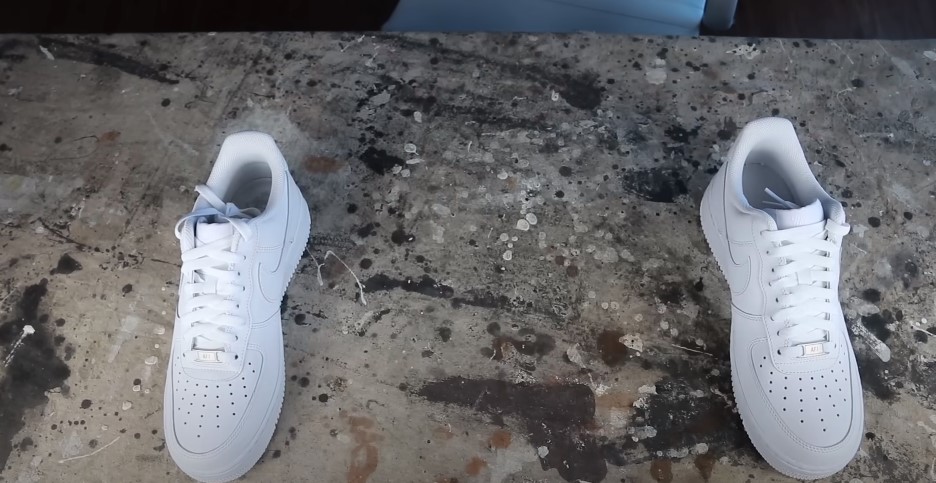 Step 3:  Create Your Design and Mask On The Designed Area
Here comes the most important part: designing the shoes and masking them. If you're going to paint the entire shoe, just seal the inside and sole. But if you want to create a design or apply multiple colors, there is some work you have to do: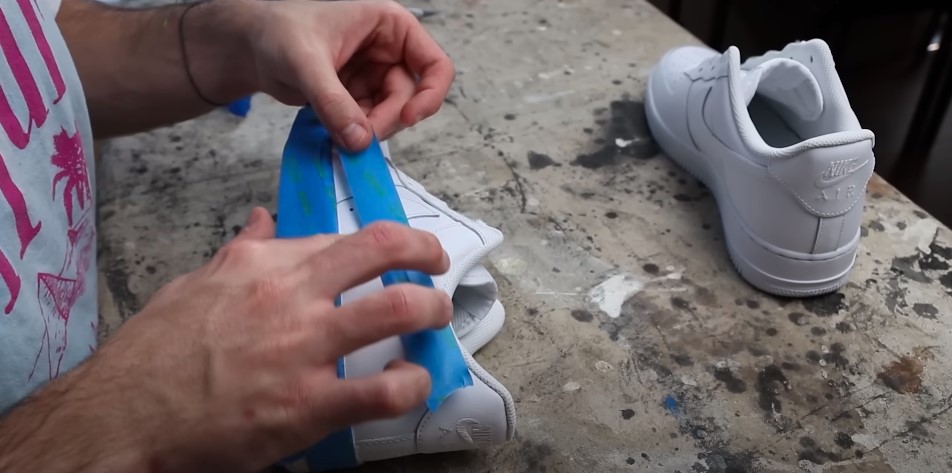 Remove the laces from your shoes and seal the inside and area (you can save some tape and time by using paper towels at the bottom of your shoes)
Now apply the masking tape on those areas where you don't want to apply the spray paints
Take your time and cut the unusual part of the masking tape with a craft knife
Step 4:  Apply The Spray
After completing the necessary work, apply the spray paint. But remember to put on your protective gear before you start spraying. The step-by-step process that you need to follow: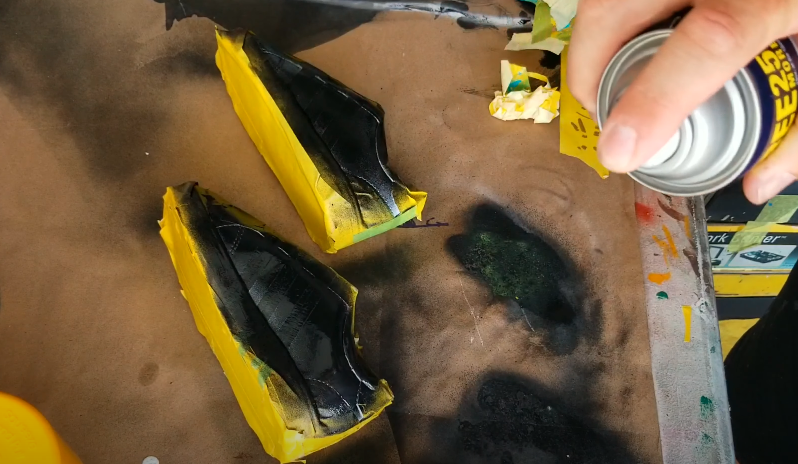 Place the paint spray nozzle about two inches away from the shoes and gently press it.
Apply the spray paint in back and forth applying method.
Take your time and apply the paint to the entire area.
If a second or more coat is required, then let the last coat dry completely before applying the next one.
You must wait a few hours between coats to get excellent results. However, if you plan to use more than one color, allow the primary paint to dry before applying the masking tape to the areas you don't want to paint. Then repeat step 4 until you're finished.
Step 5: Peel Off The Masking Tape
When you're done applying spray paint, it's time to peel off the masking tape. Grab the mask tape's end and gently peel off all of them. Moreover, apply a protective finish or sealer to keep the paint condition at its best and let the shoes dry completely.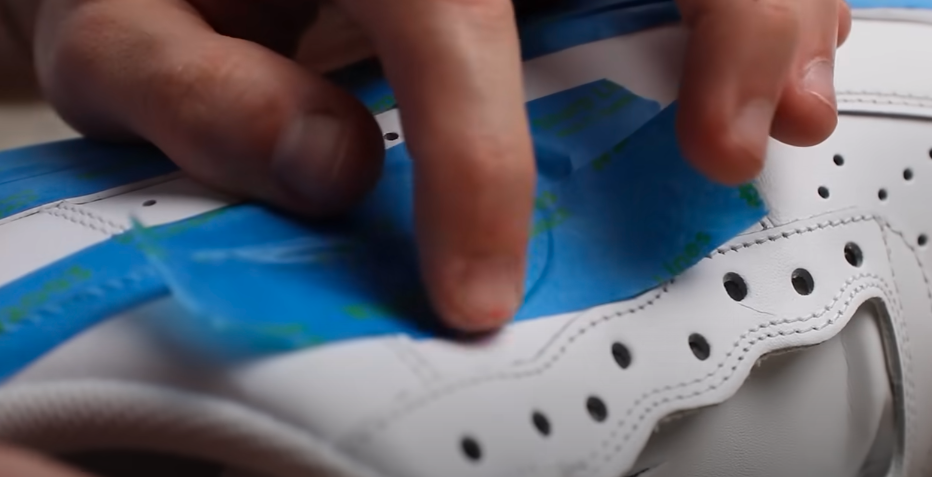 Tips To Get Better Output After Spray Painting Your Shoes
Knowing tips and tricks is something that always brings good output to any work. However, here are some of the tips that you can follow to keep your spray-painted shoes in top-notch condition: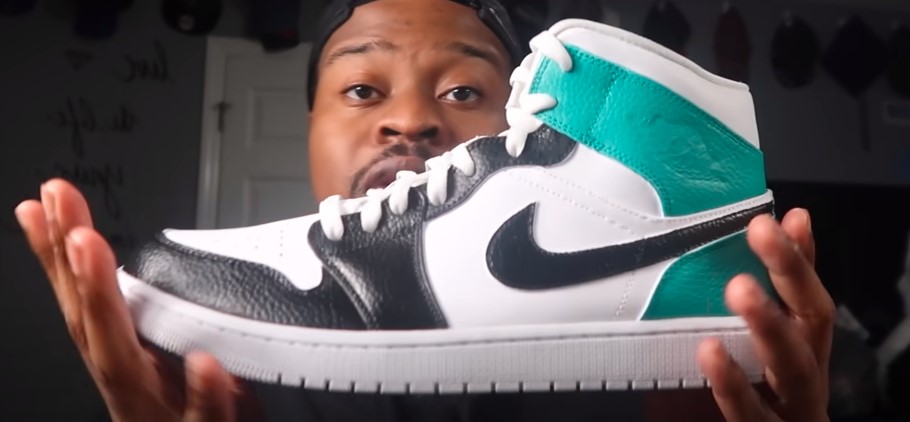 If you're planning to spray paint your new shoes, then don't forget to apply acetone to take off the factory finish
While painting old shoes, always wipe them with a damp cloth. And do not apply the spray paint unless the pair is completely dry
Always spray paint in a well-ventilated area and allow the first coat to dry fully before adding a second one
You can quickly dry out the paint by using a blowing air machine or hair dryer
Make sure you've stored the spray-painted shoes in a dry area, and after applying the paint, wait at least 12 hours to get the desired output
Lastly, always abide by the directions provided with the spray paint can.
Frequently Asked Questions
Do you have any queries in mind regarding applying spray paint to your shoes? If so, this FAQ section can really help. Here I've included the answers to the most frequently asked questions. Have a look:
Can You Spray Paint Shoes A Different Color?
You don't have to stick to one color when spraying shoes, and you can easily apply multiple colors. Apply the base color, let it dry, and then mask the area where you don't want the second color. If you have a third color, just cover up any areas you don't want this paint to be applied, then start spraying.
Can You Spray Paint Shoes Gold?
Gold is known for providing a chic and elegant look, and you can apply gold paint spray to your shoes. There are multiple spray paint manufacturers who make gold-coloured spray paint for different shoe materials, such as TRG. Simply follow the proper spray paint-applying method to give your shoes an awesome gold appearance.
Can You Spray Paint Shoelaces?
If you're planning to apply a different color all over the shoe, then it's obvious that you cannot leave the shoelaces. Otherwise, the shoelaces will give you an awkward look. However, the fact is that you can also apply spray paint to shoelaces; here are the steps:
Wear your safety gear and keep the shoelaces on your hand or hung somewhere
After that, apply the paint and, if needed, apply multiple coats
Let them dry, and you're done.
Closing Thoughts
There is a saying that "a little creativity goes a long way," and you can get a real-life example of this quote by applying paint spray to your shoes. Since you know if you can spray paint shoes or not, give this new thing a try.
Just make sure you're using the appropriate spray paint for your shoes. Also, don't forget to arrange all the required tools before starting the painting, which can make the work effortless and hassle-free.
After arranging all the required tools, simply follow the provided guidance on applying spray paint to get the best output. Also, remember to focus on tips and techniques to keep your spray paint looking good for a long time.