Taking a walk or having a run for exercise or whatever the reasons, shoes are one of the most often worn accessories by humans. They are utilized by individuals of all ages and genders. Indeed, an individual wears them throughout his or her life, beginning with the moment he or she learns to walk on earth.
Now, you would like to buy a new shoe for yourself but you are confused on what to choose between a sneaker or a running shoe. Do you know the difference between Sneakers and Running Shoes? This article deconstructs the distinction between sneakers and running shoes to help you understand when to wear sneakers instead of running shoes.
Here, we provide a detailed comparison between running and sneakers:
Product
Stability
Stability
More neutral
More stable
Feel
Upper Body (Case)
Upper Body (Case)
Synthetic type
Mesh type
Mid-sole
Lower (Sole)
Lower (Sole)
Phylon sole
Rubber sole
Heel Drop
Running Shoes Vs Sneakers – Which is Better?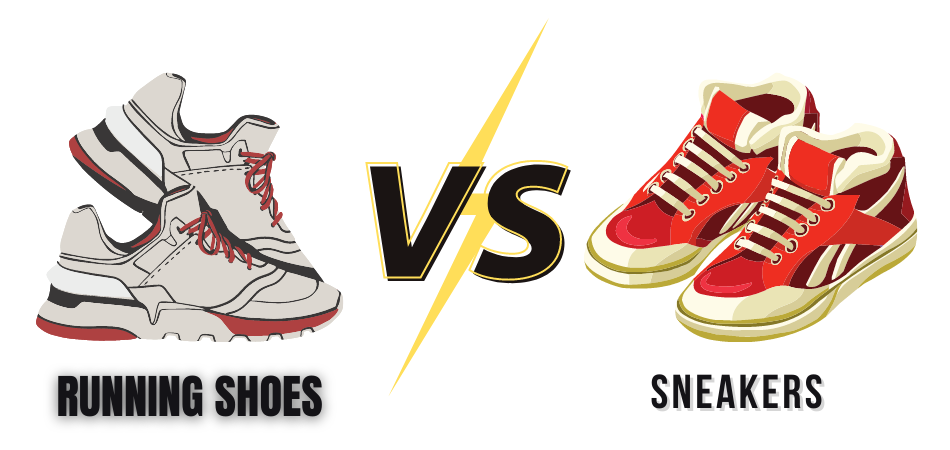 Sneakers are referred to as "sneakers" in slang, and the term "sneakers" is derived from this. Sneakers (also known as tennis shoes) are generally considered to be informal and are ideal for everyday usage. They're also frequently inexpensive and long-lasting. Running shoes, on the other hand, are designed with qualities that make them more suitable for running or exercising in.
Sweat-wicking fabrics, extra support, and breathable air pockets are some of the characteristics of this garment. Depending on what is the reason why you are buying such item is the key to select which is better.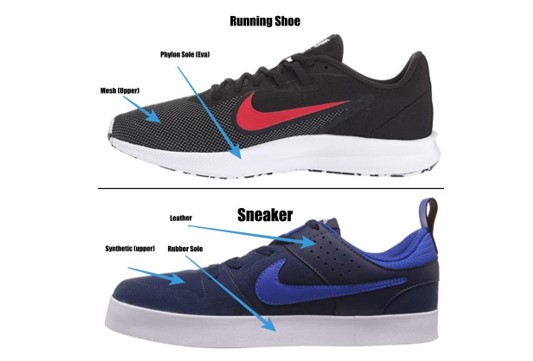 While running shoes and sneakers may appear to be same, they are actually quite dissimilar. Running shoes, on the other hand, are often more costly and intended for a number of various sorts of runners, whereas sneakers are typically less expensive and built for a single type of runner.
A variety of running shoes are available for you to pick from in terms of style and fit.
Running shoes
If you've recently tried to shop for running shoes, you've definitely been overwhelmed by the options. Choosing a pair from so many alternatives might be difficult. To help you make a better shopping decision, we've broken down information about choosing running shoes.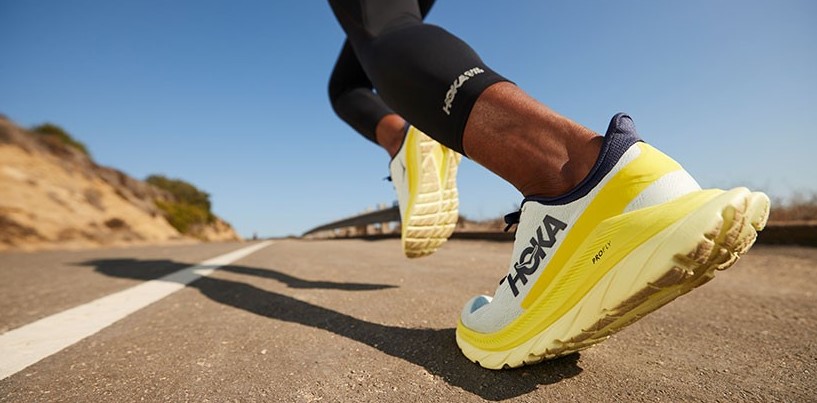 What Are Running Shoes?
Running shoes are designed to sustain an impact force equal to 2.5 times your body weight each time your foot makes contact with the ground while you are running. To effectively absorb the shock of running, it is necessary to have appropriate cushioning in both the heel and forefoot of the shoe.
A range of functions are served by running shoes, which are always being updated with the newest materials and technology. Your running style and requirements can be met by a range of solutions.
Are Running Shoes Worth It?
Yes, in a nutshell. Worth the effort." The true answer, of course, is more nuanced and pertains to your identity as a runner. You're likely to notice a difference if you go from $50 department-store running shoes to your first pair of $100 running shoes. If you're upgrading from $150 to $200 shoes, the differences will be minor enough to demand more thought.
What Are the Advantages of Running Shoes?
According to "The Benefits of Running," a Vanderbilt University report prepared by Elizabeth McLeod Sadler, running provides a multitude of health benefits, including lower blood pressure and body weight and increased lung capacity. While runners require only a few items of equipment, they do require a good pair of running shoes. Running shoes not only cushion the foot in the midsole, but also provide arch support, aid in injury prevention, and may promote increased athletic performance.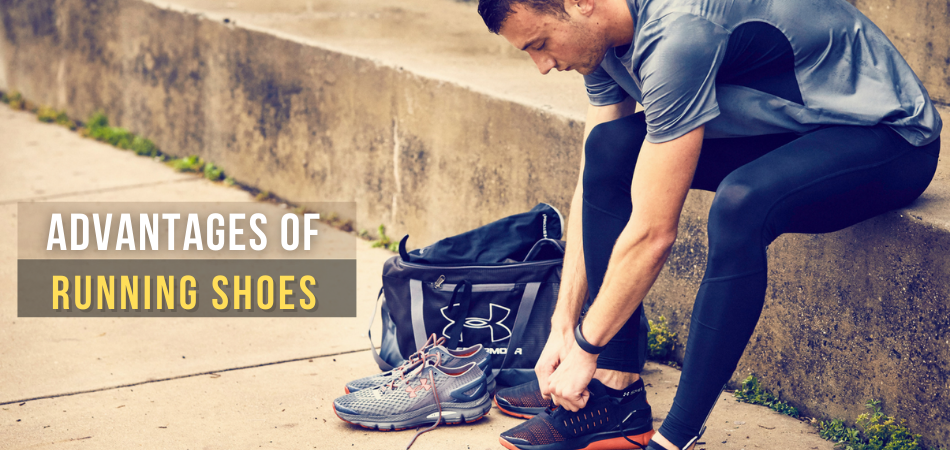 Here are some of the advantages of running shoes:
Superior Cushioning
According to the American Council on Exercise, midsole cushioning is a significant benefit of running shoes. The midsole is the part of the foot between the ball and the heel. This increases comfort and safety. By improving body mechanics, proper cushioning can help relieve or prevent knee, hip, and back discomfort.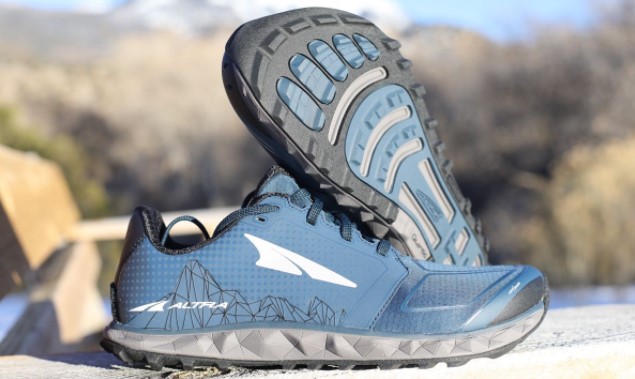 Flexibility in the right places
Researchers found that jogging in light running shoes used less energy and effort than running in heavier shoes. It makes obvious – lighter shoes or no shoes make each stride easier than hefty shoes. Take advantage of the advantages by choosing the lightest shoes that provide adequate support.
Stability or Motion control
Flat-footed people need arch support, especially if they exercise often. As a result, it's unsurprising that the majority of runners like the arch support provided by most running shoes. The American College of Sports Medicine recommends that runners who are flat-footed consult with a physical therapist or exercise physiologist. While most runners benefit from arch support, even those with high arches might benefit from the correct sort of support.
Injury Protection
Running shoes can help prevent various injuries. This midsole cushioning and arch support may help avoid overuse issues including tendonitis, stress fractures, and joint discomfort. While barefoot jogging has increased in popularity over the last several years, the risk of cuts and scratches remains high.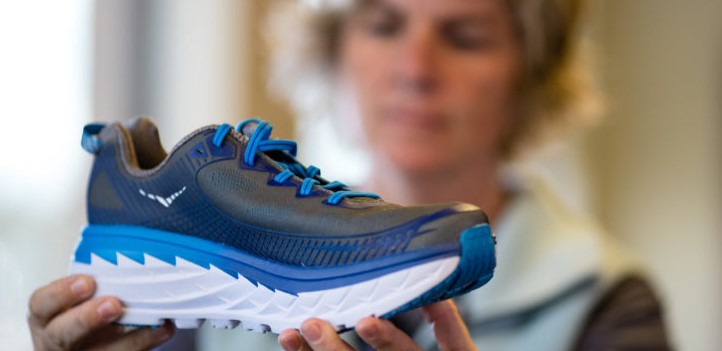 What Are the Disadvantages of Running Shoes?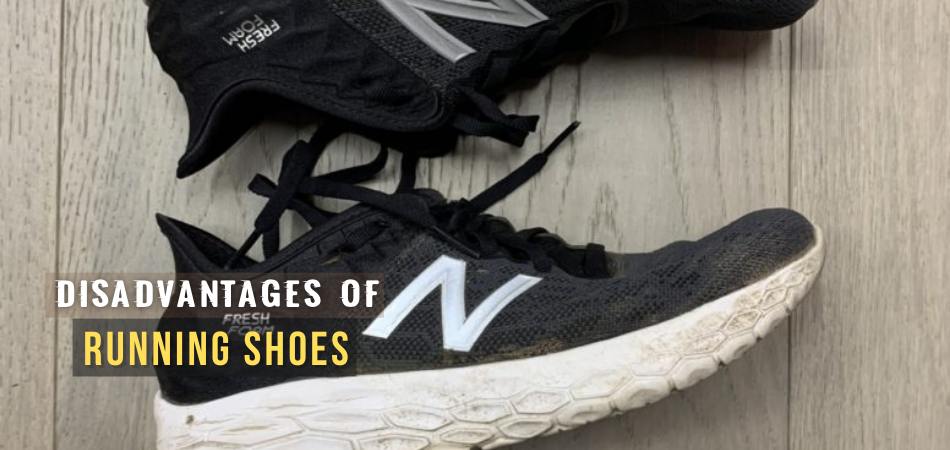 Here are some of the Disadvantages of Running shoes:
Not designed for those with high arches.
Running shoes are not made for individuals with high arches." I'm aware of the difficulty of locating running shoes with high arches. They look to work, but your feet are continually in pain after a few kilometers. Running shoes are designed for flat or low-arched feet (thus the name), therefore you're out of luck if you have high arches. Don't be concerned! Athletes with high arches who are seeking for the appropriate running shoe still have options.
The bottoms of running shoes quickly wear down, resulting in injuries.
Running shoes feature a tough, durable sole that might assist you in running quicker. They do, however, quickly wear out and must be changed every 500 miles. The high rate of wear on the pavement is due to your footfalls. The material of the shoe compresses and deforms with time as a result of the repeated impact pressures, increasing the risk of injury.
Last less than other sporting footwear
Running shoes have a shorter lifespan than other types of athletic footwear. When running, jogging shoes have more padding to give more comfort and protection. Running shoes have less traction than regular shoes, therefore they wear out more quickly on concrete or gravel surfaces.
Costly to change frequently
Running shoes are expensive to replace on a regular basis. When choosing running shoes, look for ones that include extra cushioning or support for your feet. Because running is a full-body activity, the shoe should provide enough arch support, stability, and blister prevention.
Sneakers
When it comes to purchasing new shoes, the majority of people are more concerned with how they seem than with how they feel. Choosing a nice pair of shoes that will protect your feet while also making you feel like you're walking on Cloud 9 is crucial. If you are trying to look for a comfy shoe to wear in any occasion you like, you might consider buying a sneaker footwear.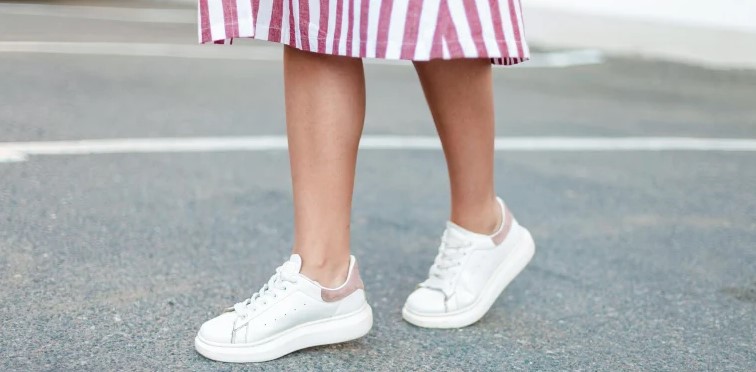 What Are Sneakers?
Sneakers are shoes that are not meant to perform a certain purpose. They are suitable for formal and informal parties, depending on the circumstances. When it comes to shoes, there are several patterns and colors available.
Sneakers are made of textiles such as canvas and denim, and have rubber bottoms to protect the feet. This is due to the fact that they are meant for occasional usage and do not provide lateral support. Sneakers are created with increased padding to provide greater comfort.
Are Sneakers Worth It?
Yes, in many reasons to consider, buying or owning a sneaker could be worth it. Perhaps you are thinking about its prices but if you think about its usage, you can definitely tell that having one could be a great deal. You could not just have a shoe but you could have a shoe with style and durability wise, its worth it.
Originally, sneakers were merely "tennis shoes". You wore sneakers to exercise, play sports, or simply hang around. Nowadays, people make money reselling shoes and it became also an investment for others.
What Are the Advantages of Sneakers?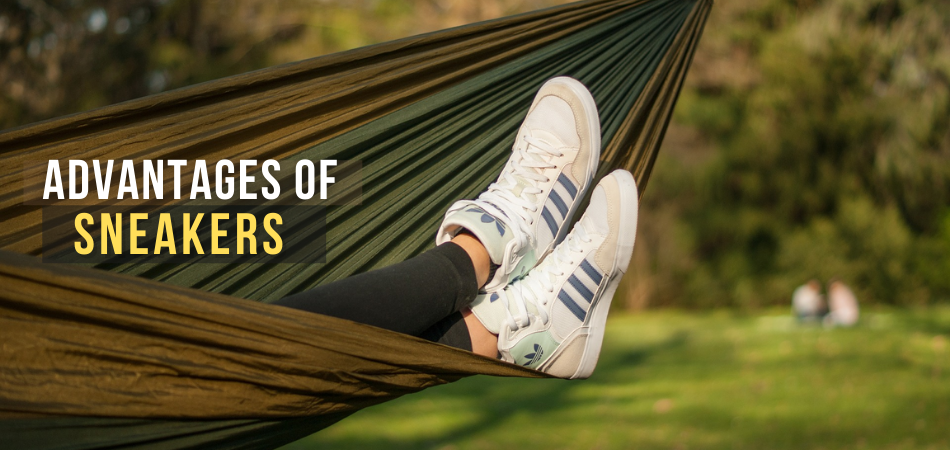 Here some advantage of sneakers:
Versatility
Sneakers are available in a number of different designs, making them suited for a wide range of sports and occasions. They may be worn for casual Fridays at work, park walks, and exercise (if you have that). Leather shoes, on the other hand, can be worn with more formal dress, but never with exercise gear. The footwear you should work out in are in a different category, since they must have certain elements to make your workout more successful and safer.
Support
An excellent pair of sneakers will support your feet when doing high-intensity activities, jogging, or playing any activity. Also, sneakers are more stable than other shoes, allowing you to leap or stroll with greater confidence. Foot injuries are painful and take long to recover, which is irritating. Some types are made particularly for those with flat feet who are prone to falling over when walking or jogging.
Breathability
Sneakers are breathable, especially if they are mesh. This material allows your feet to breathe, which is beneficial. This is especially important during the hot summer months when temperatures are at their highest. If your feet don't breathe, they may be saturated with sweat. Long-term exposure to this situation might produce foot odour and infection.
What Are the Disadvantages of Sneakers?
When you're attempting to wear a delicate clothing outside while wearing shoes, things might become a little tough. The only sneakers that are on the edge of being appropriate for a feminine ensemble are vans, owing to their light color schemes and lightweight construction. You may also have sweaty and smelly feet as a result of wearing sneakers. Because of the heat, I understand that most people do not prefer to wear socks in the summer. So if you're thinking about wearing slip-on sneakers, consider wearing No-Show socks or even putting baby powder in the shoe before you put it on!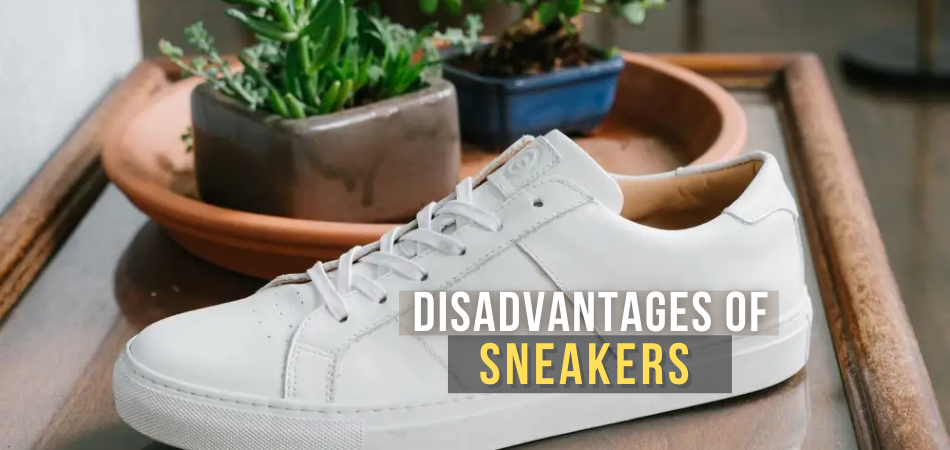 Do You Need Running Shoes or Sneakers?
While sneakers and running shoes have certain similarities, their functions and styles are not necessarily identical. While both sneakers and running shoes are lightweight and easy to wear, they differ significantly in other ways. Your need for shoe, whether its running shoes or sneakers depend on where, when and why do you need it. It's really up to that matter.
Frequently Asked Questions (FAQs)
Are Sneakers and Running Shoes the Same?
Sneakers and running shoes are distinct in that sneakers are often connected with fashion, and a number of celebrities have been seen wearing them at various events and functions. You may read this article to get an idea of the renowned fashion sneakers that celebrities prefer to wear at various events and locations.
Can Sneakers be used for Running?
Long-distance running should not be done in sneakers. Running shoes can be worn casually at various events or while strolling down the street, but sneakers are not appropriate for running.
Because the amount of leather on the upper of athletic sneakers is higher to give a more supportive fit for sideways movements, they are a little heavier than running shoes.
Conclusion
While some people may not notice a difference in cushioning between sneakers and running shoes, others may discover that they require more arch support in sneakers than in running shoes due to their feet pronating as they run.
Individuals have varying fashion preferences, thus the style of shoes they wear is totally up to them. While going out in shoes might be embarrassing at times, if you relax and have a sense of humor, you will appreciate seeing the many sorts and designs of sneakers worn by others.