When it comes to wearing vans sneakers, it's a versatile option for all sorts of outfits you can think of. Well, does this versatility applies also to comfort? Are Vans bad for your feet in the first palace?
Originally, Vans were the sneakers for skateboarding enthusiasts because of their comfortable yet highly resistant suede outsole that doesn't wear out that easy.
And that's where the criticism truly stumbled upon Vans. Since they're incredibly popular but have a flat footbed and somewhat rigid feeling to them, wearing them while running will hurt your feet.
However, that all can be different if you start using the Vans UltraCush insert in the insole.
Let's talk about it a little and see how different types of Vans sneakers do in terms of comfort.
Are Vans Bad For Your Feet?
There's no short answer to this question since it can be both Yes and No depending on how and when you're using it.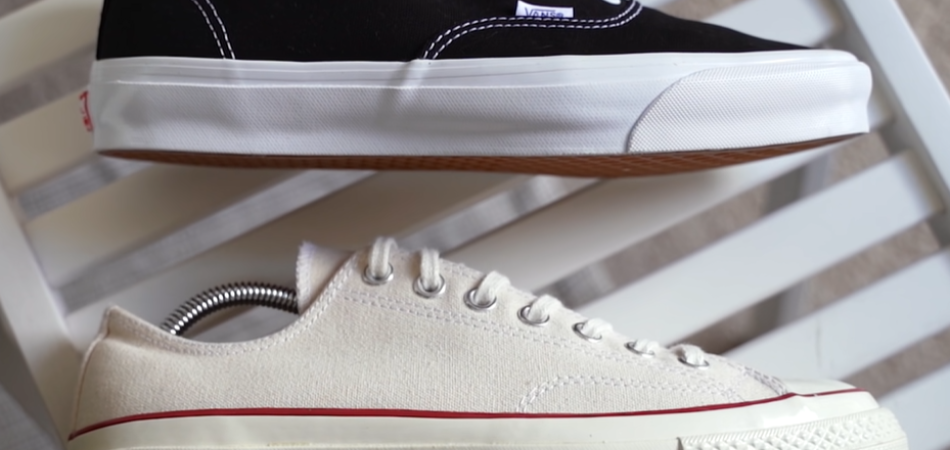 Wearing Vans is just fine, when:
If you have flat feet, or at least, not a high arch, there's nothing wrong with you using the Vans. Most Vans come with a flat insole with zero heel to toe drop. This results in a nominal drop to the ground.
Another fact to keep in mind is that Vans come in different upper lining options, both synthetics, and fabric. Either way, you'll never complain about its comfort if the insole or foot is suitable for you.
Well, if you want both the advantage of Vans but don't want to strain from hours of standing or walking, you can use an orthopedic insole. As Vans shoes have a flat surface inside, and the insole is removable, you can use external insoles.
Read Also: Are Vans Non-Slip Or Not?
So, When Can Vans Hurt Your Feet?
Now, you know when you can wear a pair of Vans sneakers, but where does the stigma lie in? When is the time when Vans are bad for your feet? Here's when:
You Have High Arches
If you have high arches, this will strain your arch as you have empty space between your arch and the footbed of Vans. Unless you're using a supportive version of Vans sneakers, like the ones with UltraCush insert.
Standing or Walking Too Long
If you have to stand, walk, or run most of the day, chances are, you'll hurt your feet wearing a flat footbed of Vans. In such a case, you want to go for an extra insert or buy supportive Vans sneakers in the first place.
Not Wearing The Right Size
Not wearing the right Vans shoes or converse can surely lead you to foot strain. This is true not for only Vans, but for all sorts of shoes and footwear. If your foot is 39 but you're wearing 41, or vice versa, the shoes won't be comfortable.
Too tight or too loose will put you in an uncomfortable situation. Be sure to have your feet measured before settling on the shoe size.
Vans Are Best For Flat Feet
After going through the issues with Vans shoes, you should now know that Vans are great for people with flat feet. Even if you have a regular arch height, the Vans will be on your side just fine for long enough.
It's only if you have high arch, or stand for long with regular arch when you have to consider getting a separate insole. With an insole compatible with your feet, like a memory foam orthopedic one, combined with Vans, you can rest assured that you'll be in good shape.
Are Vans Comfortable For Everyday Wear?
Vans are great for flat feet for as long as you want to wear them. These shoes are definitely not good with the stock insoles for high arch. And somewhere in between, when it comes to regular arch height and not wearing for crazy long.
Are Vans Good for Gym?
Okay, Vans shoes have mixed experience for people with different arch height. But, what about going to the Gym? Are Vans good for hitting the gym? Here's what you need to know:
Vans are good for lifting because:
Better stability in core men's models
Versatile multipurpose usability
Zero millimeter heel to toe drop
Waffle tread pattern for better grip
The best models: Vans Sk8-Hi, Authentic, OldSkoll
Not the best for deadlifting because:
More stack height (Vans have 1″1.5″ soles)
But okay for beginners in deadlifting
Not the best for squatting because:
No elevated heel or wedge heel support
But, can be a good option if you don't want an elevated heel
So, why vans are under huge criticism?
Well, when you have a brand getting so much exposure, especially for a very long time, it's very easy to fall into the hands of the wrong people.
Here, the wrong people are the ones who have a generously high arch but tried to use them for too long. Or, they just were wearing the wrong size.
Besides, Vans are truly not that great in terms of keeping every kind of foot comfortable!
If you have a generously low or flat arch, go for the regular flat insole shoes. For higher arch or if you stand or walk for long, go for their UltraCush insert alongside the shoes.
And, on a serious note though,
Vans were initially made for skateboarding! Yes, you do have the option of using them for any purpose, but Vans are the best when you're using it for the primary reason.
In fact, if you go try joining the Vans family, the options of use cases they show you; skateboarding is still their first priority. Surfing, snowboarding, BMX, these similar things are the next ones.
Vans And Converse: Differences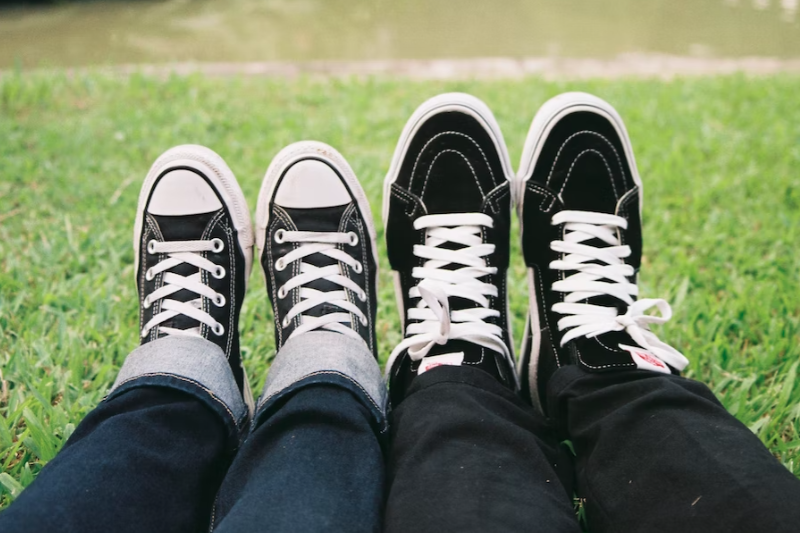 Lookwise,
With Converse on, your feet will look longer than actually they are. With Vans, you'll see the length of your feet just as they are. So, if you don't love the idea of looking your feet longer, avoid Converse and go for Vans.
In terms of comfort,
They both offer the same level of comfort, with almost the similar flat footbed. However, if you have the tendency of developing blisters from new shoes too easy, Vans will be better for you.
For durability,
The vote will go for both, but for different use cases. If you're always on the streets, doing stunts, riding skateboards, or playing BMX, Vans is hands down what you want. But for regular use as part of your fashion, the converse can be highly versatile and last longer.
Cleaning…
It can be difficult to thoroughly clean a pair of converses compared to a pair of Vans. This is especially true if you're using a pair of white, nice looking converse that are made of canvas.
How To Wear Vans Comfortably?
Wearing Vans can be described in a million ways. But the best above all is what fits your feet and taste.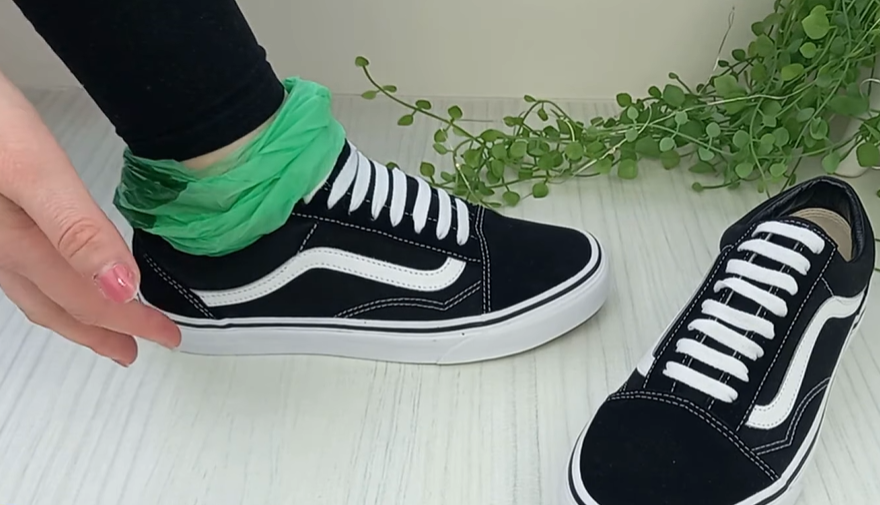 First off, there's a breaking-in period. You can wrap your foot with a plastic bag, wear the shoes and walk around to avoid blisters, and use a pad between your back heel and the shoe to avoid scratching as well.
Secondly, if you have a high arch, go ahead and remove the included insole and replace it with a supportive 3rd party ortholite shoe insert. This can be quite a daunting task if your model of pair comes permanently attached to the midsole.
You can just pry the heck out of it and use your favorite supportive insert.
As for styling, there are many variations you can try out, or you can just make a combo of your own. If you skate a lot, get the colors right before you get the Vans in the first place, matching your board.
And check it out if you wnat some style inspirations with your Vans:
Final Advice
Vans Shoes are quite popular among young people, especially as it goes perfectly with both  pop culture and decent outfit. It's very easy to look cool in any outfit when you're in Vans.
But the thing is, no amount of precious outlook can overdo comfort. Now that you know whether are Vans bad for your feet or not, taking a wise decision should be easier.
Pick the right model of Vans, do your customizations with 3rd party inserts if needed. Don't Vans if you have high arch, or need to stand or walk for too long as Vans have a flat ground.