Vans are iconic footwear that has been in the market for decades. The brand is trusted and prominent for offering attractive designs and excellent shoes for its customers. Besides their attractiveness, most people are concerned about their safety; thus, stirring the debate, are Vans non-slip?
Vans are remarkably slip-resistant shoes. Their well-grooved rhomboid and diamond pattern rubber soles are designed to prevent you from slipping and possibly falling. Additionally, they help you maintain balance and walk comfortably on wet or oily surfaces.
The non-slip nature of Vans makes them suitable for skaters, dancers, acrobats, and people working in wet/slippery environments.
This article seeks to answer the question, "are Vans non-slip?"; we further give you tips to keep you safe while wearing Vans on slippery floors. Stay with us.
How To Tell If A Shoe Is Non-Slip Or Not?
It's relatively easy to tell if your shoes are slip-resistant or not; all you need to do is check the bottom (outer sole) of your shoes.
Usually, slip-resistant shoes have deeper grooves that repel liquids spilled on the floor, thus preventing you from tripping. Also, most of them are made from hard rubber; plastic outer soles will easily skid on wet surfaces.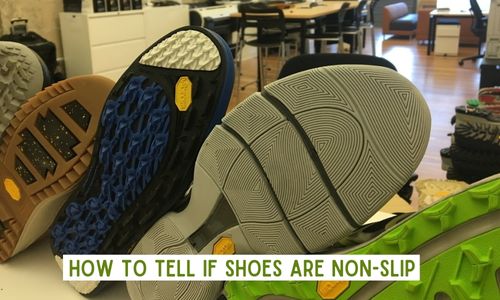 Here are some things to check when getting non-slip shoes:
1. Check Its Packaging
Before you even go any further, checking your shoes' packaging for the manufacturer's description can save you some time. Most footwear manufacturers use "slip-resistant" as a selling point for their products, so they will most likely label it on the packaging.
2. Check Its Treads
Slip-resistant shoes have distinctive treads that prevent sliding. These treads come in different prints and shapes, such as diamonds, hexagons, circles, lines, etc. These patterns will drive out spilled liquid when traction is applied, thus avoiding slipping. Numerous smaller patterns are more effective for preventing slips than fewer big patterns.
3. Check The Grooves
Properly grooved outer soles provide maximum traction to keep you upright when walking on a slippery floor. Similar to car tires, go for grooved soles since they channel water out from beneath the sole, giving you a comfortable walk on a wet surface.
4. Check Its Shape
The shape of your sole significantly determines how comfortable you are walking on a slippery floor. Shoes with flat-edged soles trap spilled liquid under them, thus making it easy to slip. On the other hand, shoes with rounded soles offer more stability when moving on wet/slippery surfaces.
5. Feel The Sole
It's important to physically touch the outer sole of the shoe you want to buy. Avoid shoes with too-hard plastic soles if you intend to use them on slippery floors. Instead, go for rubber soles that grip the floor and provide enough traction to keep you upright. Rubber is softer and more flexible than plastic, which is hard and rigid.
6. Try It Out
After checking the above tips, you can try wearing the shoes to see how they feel. Find a shiny or slippery tiled floor and walk around wearing the shoes. Pay attention to how your foot moves. You can also try sliding to see if your foot remains in place; be careful not to overdo it, and you might injure yourself. You should be able to notice how the sole grips the floor.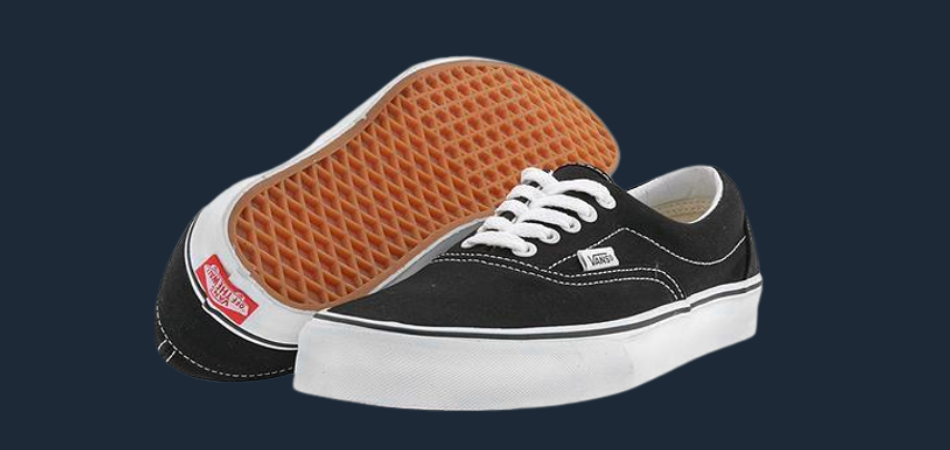 Are Vans Non-Slip?
Yes, Vans shoes are non-slip.
Vans are characterized by their iconic diamond and rhomboid tread design, making them slip-proof. These soles are made of high-quality rubber that provides the much-needed traction between slippery/wet surfaces and the shoes.
So, you will experience a stronger floor grip while walking in Vans, a feature that reduces the chances of sliding.
What Makes Vans Shoes Non-Slip?
It's no doubt that Vans are non-slip shoes trusted by many people worldwide. The rubber used on Vans soles is of excellent quality, making them resistant to skidding on wet floors.
The company boasts of 'vulcanizing' the soles to toughen them and leave them somewhat gummy. This process makes the shoe grip on a slippery surface to avoid skidding. The non-slip ability also makes Vans an ideal running on grass shoes.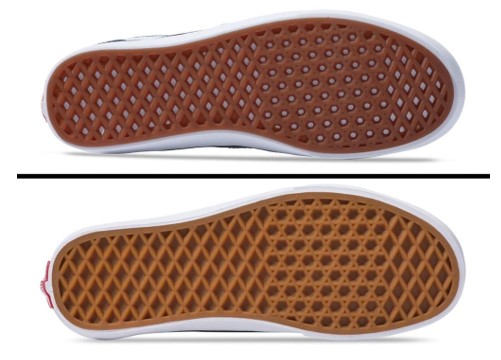 Moreover, their soles are machine-pressed to form a "waffle"- like design characterized by a combination of rhomboid and diamond patterns. This pattern is essential for expelling the liquid trapped beneath your feet, giving you a more stable and upright walk.
Can I Wear Vans To Work In A Restaurant?
Simply, the answer YES! Vans are not only safe but also comfortable to wear for long hours. Various styles of Vans are made with anti-slip soles, making them ideal for wearing when working in a restaurant.
Vans are typically a perfect choice for most people who desire footwear that's 100% safe and comfy to wear.
As aforementioned, you shouldn't have a problem wearing Vans since they have slip-proof rubber soles that guarantee safety. This also ensures you can easily walk around the slippery kitchen floor without worrying about skidding or falling.
Tips To Stay Safe On Slippery Floors
They say "prevention is better than cure" and better be safe than sorry. When working on slippery floors, your number one priority should be prevention.
Sometimes slips are common, inevitable work accidents, but the good thing is they are preventable. Here are some tips to help you stay safe on slippery floors:
Put up proper drainage systems to prevent pooled water on the floor.
Clean up liquid spills on the floor immediately.
Always put caution signs to notify people of slippery/wet floors.
Block/close down affected areas, especially when cleaning.
Use floor mats on all entrances and exits. This will help minimize tracking water from outside that could cause a slip on a slippery floor.
Do not ignore liquid spills; if you cannot clean them, report them to the person in charge.
On the other hand, if the nature of your work demands working on slippery floors, below are easy tips to help you avoid slipping while working:
Always wear a non-slip pair of shoes.
Avoid rushing, running, or fast movements.
Use your hands for balance.
Support yourself on safety rails if available.
Focus on the floor you are walking on.
Beware of your surroundings.
Take small steps when walking to maintain a centered balance.
Make wide turns when taking a corner.
Keep your feet slightly pointed out to get a stable base.
Bottom Line
Getting a non-slip pair of shoes goes a long way to save you from injuries and medical bills, especially if you work on slippery/wet floors. Regardless of where you work, having a pair of shoes that guarantees you safety should be your utmost concern. We hope this article has answered your question, "Are Vans non-slip?"
Vans have repeatedly proven that they are worth it when it comes to slip safety, considering they are most preferred for skating and gymnastics. Most restaurant workers have also adopted Vans because of their anti-slip ability. If you are looking for something fashionable and comfortable with a wide range of styles, you will never go wrong with Vans.